Awesome Personalized Animations by The Flippist
Posted on
July 15th 2015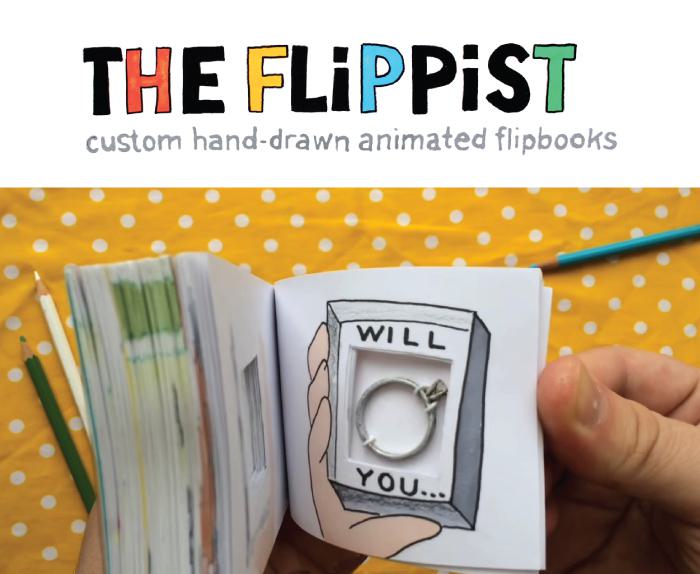 Chicago illustrator Ben Zurawski takes us back to the analog joy of simpler times with his animated flipbook art. Working under the monicker "The Flippist", Ben specializes in creating custom animations for special occasions. Marriage proposals, birth announcements and sports victories are common themes. What makes his work so striking is its context within the modern world of digital art. One might argue that it would be a lot simpler to scan the art or just render it on a screen to print out. And for the most part they'd be right. But there is something so warm and alive about these micro cartoons, the loose lines and constantly changing elements (including the background) brings a whole other life and dimension to his work that would simply be lost in virtual translation. One might wonder where such a love for the old school stems from, and Ben is more than happy to illuminate his roots.
Growing up, my dad collected all sorts of weird records, books, and antique toys. He had so much stuff, he even had his own room for it all. I would sit with him and there was always something new and interesting to look at. One day he brought out a Mickey Mouse flipbook, and I remember being in awe of what I assumed was somehow real magic in the palm of my hands. It sparked in me a love of animation and flipbooks. Here I am now, decades later…a professional FLIPBOOK MAKER!
Follow Ben Zurawski
Ben runs several active social media profiles at Facebook, Twitter, Instagram, Pinterest and Youtube.